Our Sales Service
You want your property to sell for the best price, in the timeframe you would like and with ease. Managing the sales process through to a successful completion requires diligence, efficiency and excellent communication which we pride ourselves on. Ready to sell your home? Just click here to request a FREE valuation or call one of our branches today!
Here's what we provide:
VALUING YOUR HOME:

Because we have excellent local knowledge and understanding of what buyers will pay, we provide an accurate asking price at the start of sale. Buyer demand, comparable sales and recent negotiations are all shared with you to give you reassurance the asking price we agree is right.

FINDING A BUYER:

We register 100's of buyers every month at our local offices and have many interested people looking to buy in your area right now. But it's not just a numbers game – it's about finding the right qualified buyer. Our "Magnificent 7" in-house training ensures our buyers are genuine and ready to purchase. As soon as you are ready, we will proactively contact potential buyers by phone to generate quality viewings. All suitable buyers will also receive your property details by email.

LONDON COVERAGE:

With a high percentage of buyers moving from London to enjoy the benefits of Hertfordshire, our associated London office plays a vital role in supplying quality enquiries for your home.

PHOTOGRAPHY AND SALES BROCHURES:

Clients frequently comment on the quality of our photographs and full-colour sales brochures. We pride ourselves in our attention to detail, accurate wording and information, and always showcase the key features of your property.

DETAILED FLOORPLANS:

We will prepare an informative floorplan which will include room measurements as well as a total sq ft helping you and other buyers compare like for like. Did you know that many buyers would not consider viewing a property unless they can see a floorplan first?

ONLINE MARKETING:

As standard, your property is listed on our website bradfordandhowley.com, RightMove and OnTheMarket. Our website is fully responsive so when searching via a mobile your home is easily found by interested buyers. We actively use social media to promote our properties and engage with potential buyers and the local community.

FOR SALE BOARDS:

In agreement with you, we will display our unique eyecatching for sale board outside your property. Did you know, we often have people phoning us saying they've just seen a board, and want to view the property which can lead to a successful sale? They also act as a great way for people locating your property easily when coming for a viewing.
"We genuinely care about our clients and the people that work with us - this means the service you receive will be first-class"
Andrew Bradford & Liam Howley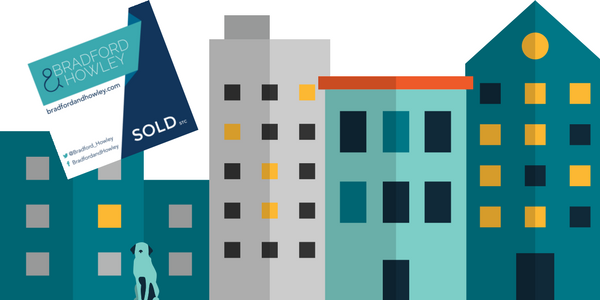 NEWSPAPER ADVERTISING: Your property will feature in our extensive newspaper advertising on a regular basis. Advertising in the local newspaper remains a successful marketing tool and provides the opportunity to showcase your property to potential buyers.
SUCCESSFULLY SELLING 7 DAYS A WEEK: Our offices provide accompanied viewings 7 days a week. They are prominently located, have attractive window displays with buyers and sellers making enquiries on a daily basis.
ACCOMPANIED VIEWINGS AND OPEN DAYS: As sales experts we have a clear understanding of buyers requirements and how best to promote your home, we therefore offer accompanied viewings 7 days a week. It may be that together we choose to hold an open day; if this is the case, we will agree a suitable date to hold this on. This is a great way to launch the property to create maximum impact. Open days can often lead to multiple offers and a best price being achieved quickly.

STAYING IN TOUCH AND FEEDBACK:

Communicating effectively is at the heart of what we do - whether it's to arrange a viewing, provide feedback or update you on the progress of your sale; we will keep you informed throughout the process to a successful completion. After a viewing takes place we will provide feedback within 48 hours, if not sooner.

NEGOTIATING THE BEST PRICE:

When an offer is made on your property, we will negotiate the best price on your behalf. Our experienced sales negotiators excel at maintaining good relationships with both sellers and buyers. We will establish the buyer's position, finances and timescales allowing you to make an informed decision. We will keep you updated at all times on any offers made.
DEDICATED SALES PROGRESSOR: With a dedicated full-time office-based Sales Progressor to manage your sale through to completion you can relax knowing you're in safe hands. Our experts deal with solicitors, surveyors and financial advisors on your behalf to provide a smooth transaction.
FINDING A NEW HOME: Whilst assisting with your sale, our proactive team will help you find your next home if you need us to. As soon as a suitable property hits the market - you will be the first to know.
If you are looking for an honest, reliable and professional estate agent you've found the right team. All of our agents have immense local knowledge and provide an exceptional service. Put us to the test and give us a call today! Arrange your FREE valuation by clicking here or head to our Contact page to see our branch details.